Registered Member
Join Date: Nov 2005
Posts: 22
Hello,

Quick question and probably a dumb question. How do you read the number [Passenger to Driver] 1,2,3,4 or 1,3,2,4, etc... Let me know because my coils crapped out not long ago. In January, driving to work in the morning and my engine started shuttering. Pulled over and turned off and on and the problem persisted. Luckily i didn't get on the freeway and found the nearest mechanic. I was told by the mechanic that #4 misfired and asked if i wanted to change one or change all. I decided to change all since if one failed, the rest isn't far behind. Man..that cost me a some money. Just recently, my engine started shuttering again while going to work. Luckily i was close to my train station where I usually park and there was a mechanic shop. The mechanic said #2 & #4 misfired. WTH? I changed it not too long ago. Told him to change 2 and 4. I guess I'll be eating instant noodles for a while! Everything is now running smoothly but i'm getting paranoid. I have a funny feeling 1 and 3 will fail. Don't know what brand the coils were from the initial change but i know the last mechanic used Delphi as stated on this expensive invoice. I observed the mechanic and it looks easy enough to change and will order my coils. The only thing I'm totally lost is which is 1 & 3?! As stated early, what is the sequence, from Passenger to Drive?
Registered Member
Join Date: Jan 2017
Posts: 1
Hello and Thanks
---
Joined the club just to say thanks to all for the info and including parts number as well I am, my first post:
I've owned (wife) 07 TSX since new with zero problems. It now has 114k miles.
This morning she call me describing exactly the same predicament.
I went to her work to troubleshoot the car with my OBD2 scanner and It throws the P0303 code. I google "tsx p0304" and find this thread.
I too, went and order it from amazon as one thread had indicate with a link, Thanks.
Order the coil for $58, that is tax and one day shipping included, be here tomorrow.
Incidentally, in my household we also own two Honda Fit; the first gen. 2007 with 147K miles, which started misfiring last year "2015" as well, no CEL thou, replaced #4 coil pack, and it fixed it. And at the end of 2016 stated misfiring again so I decided to replace the other 3 coils, ordered from Rockauto.com $89. It should good for another 100k mile, I hope.
Now, the 2 gen Fit with 139K the only problem has been the A/C blower motor. replaced it twice already.
BTW, since last year, the mpg on the TSX has drop to 19 mpg and I know that the average was 29 mpg .
I just haven't had the chance to read up or troubleshoot it to figure what the problem is.
I have notice that the temperature gauge needle only reads 1/3 of the gauge and I believe the needle should be at least right or just above the middle range.
In any case when I do the coolant flush I would be replacing the thermostat and see if that does it.
Again, thank you all!
Registered Member
Join Date: Nov 2017
Posts: 2
Sorry to bring this back but I want to add a few more theories to what can cause the misfire. I have been having a misfire on #3 I changed plus, coils and it still would come back we started looking at compression and other possible causes. After everything checking out he said and it coming back clear it came down to either a faulty ecu or a that I need to flush/clean my injectors. So I went to Honda and had them clean em out. Since then it feels smoother and I haven't had a check emissions light Since, it's all new so I will keep an eye on it but just a heads up for another possible cause of the cel
Registered Member
Join Date: Dec 2015
Posts: 102
Quote:
Same thing here.
Driving home from work last week, suddenly car started shaking, bad!
Got it home and pulled this code: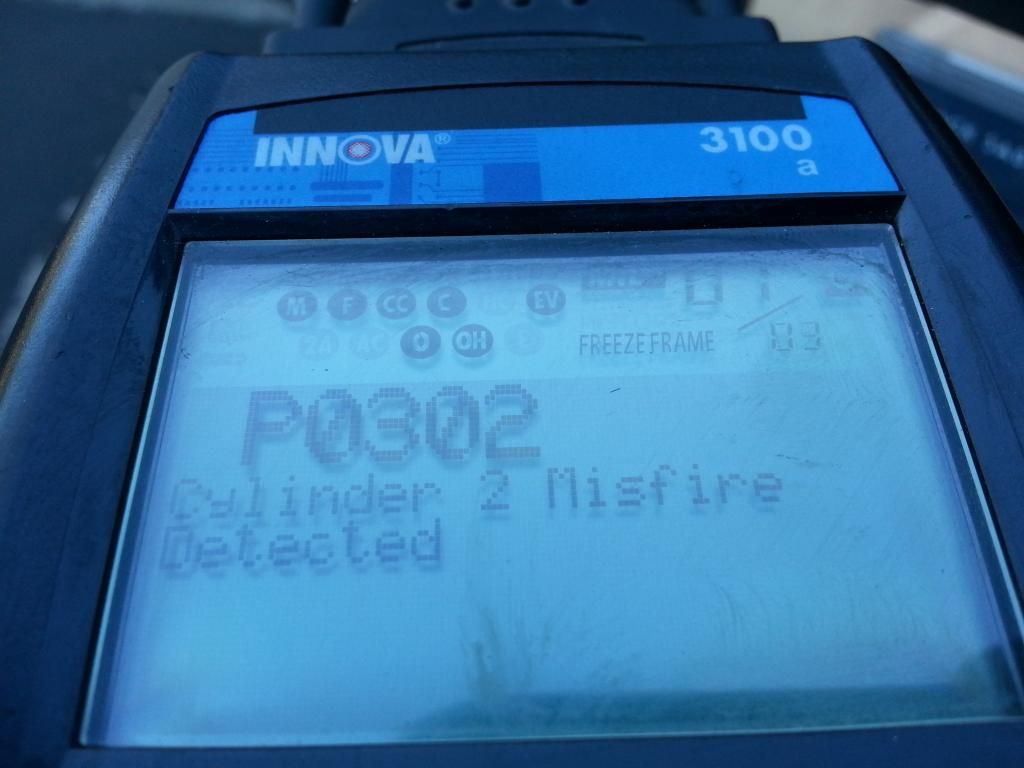 Searched "Acura TSX cylinder misfire" and this thread pops up.
Pulled the old spark plugs out: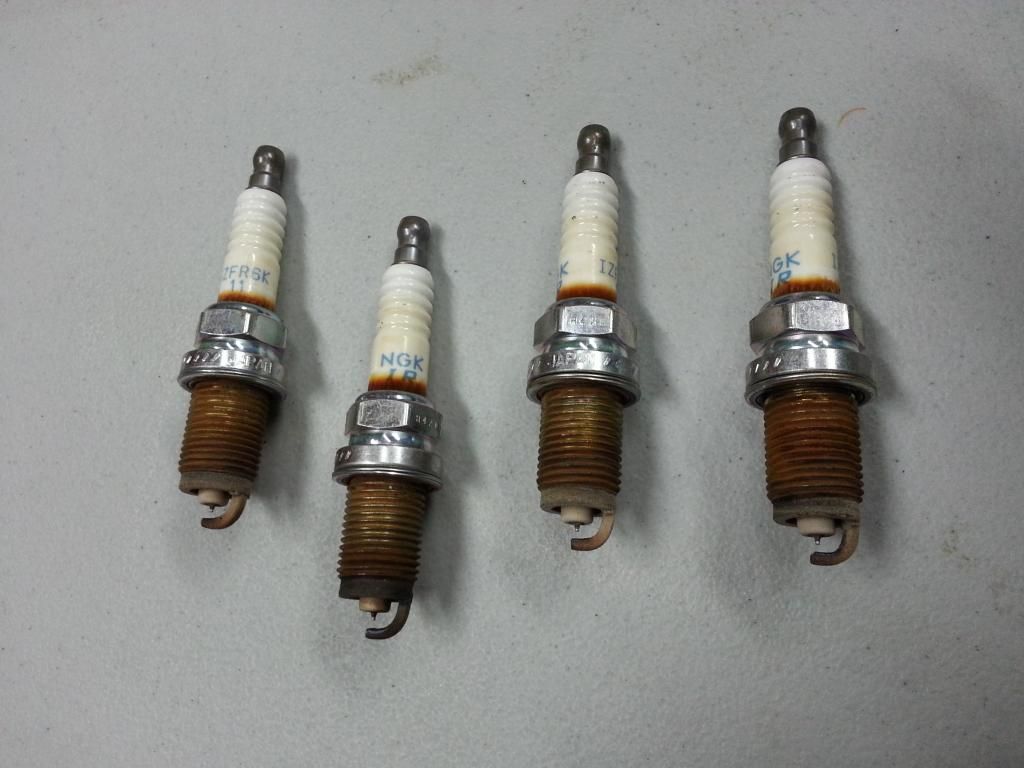 Installed brand new
NGK 6994:
Although I was in need of new spark plugs that didn't solve my problem.
In fact, more codes popped up! Along with my initial code of P0302... now I had P0301 and P0303 to deal with.
Went over my work and everything checked out so I knew that the culprit was most likely a bad coil plug.
Most likely coil plug #2 since that's the cylinder that was initially misfiring.
However, why did the other codes pop up after I changed the spark plugs?
Could it be that now the other coil plugs were going bad as well?
I could've started switching coil plugs around to see which one exactly was causing the problem, but I thought to myself that if one coil plug is already bad, then how long before they all go bad?
I wasn't gonna drive around and stall in the middle of nowhere to find out so I ordered 4 brand new Acura coil plugs online.
Parts arrived yesterday.
Out with the old: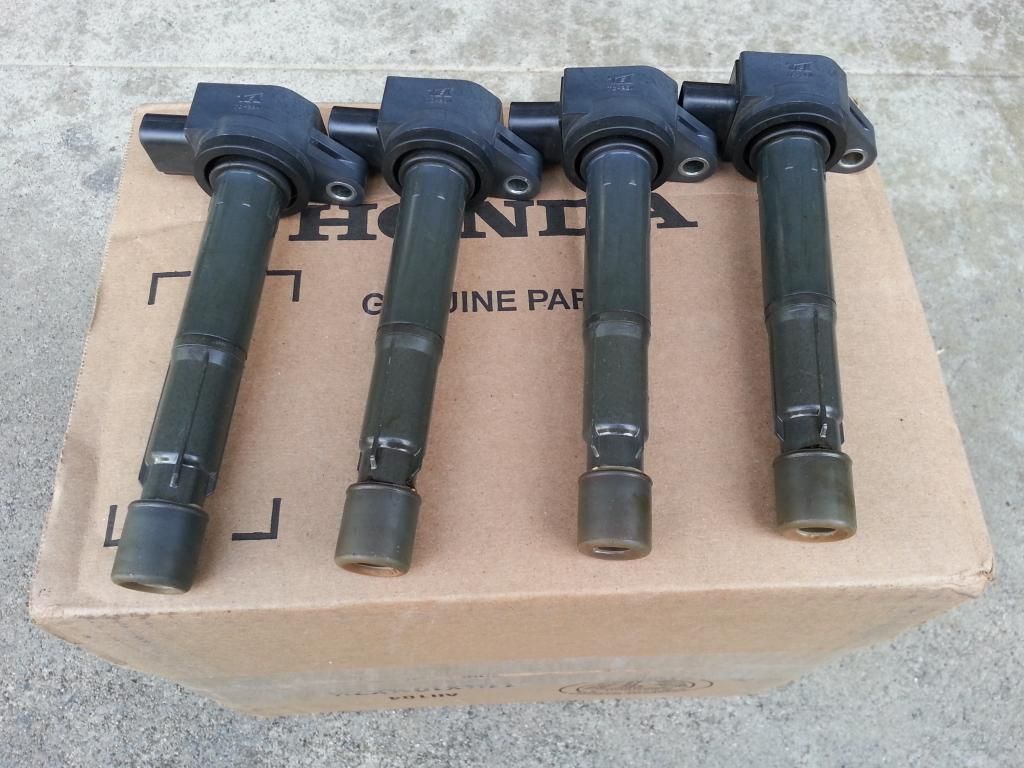 Installed 4 new coil plugs and
PROBLEM SOLVED!!
Coil plug part #:
All codes are cleared and car is running like a champ again.
Thanks again to this thread which originated in 2011 and to this DIY:
https://www.tsxclub.com/forums/1st-ge...step-pics.html
Sure glad I got this mess all sorted out because I just received my DMV renewal the other day and my vehicle is due for a smog.

Guess a less expensive way to go would be to buy two coils (preferably online from an Acura dealer). Replace the malfunctioning one, and have a spare readably available for the next failure. When it fails, buy another "spare"... That allows you to get the most out of the original coils without being "down" for more than your commute home (unless you keep your scan tool, tools & spares in the trunk).