Just bought an new axle and finally fixed the clunking from a stop and vibration during 60 mph. I was going to replace the inner joint and boot but my outer joint was clicking as well so i bought the whole axle.
Replaced only PASSENGER SIDE (right side)
for 05 TSX. It should be similar for the drivers side as well with the exception of a little tranny fluid coming out.
Tools and Materials used:
-Pair of jack Stands
-floor jack
-1/2 and 3/8 ratchet
-36mm socket
-1/2 breaker bar
-3/8 torque wrench
-10mm,17mm, 19mm socket and box end wrenches
-large bar or pry bar
-hammer
-Pin Punch
-Pliers
-PB Blaster (if necessary)
-New cotter pin
-New 36mm axle nut
-OEM Axle courtesy of the homies pops works at the warehouse.
Step 1 Make sure your car is in park and hand brake is up. This is important so the hub doesn't move when you try to break the axle nut loose. Also, remove center cap.
Step 2 Loosen axle nut with 36mm socket and half inch breaker bar. The bolt didn't take too much to break loose. You may not be so lucky, if so id use a pole or something to gain leverage.
Step 3 Loosen lug nuts while car is on the ground and jack up the car and remove wheel
Step 4 Remove axle nut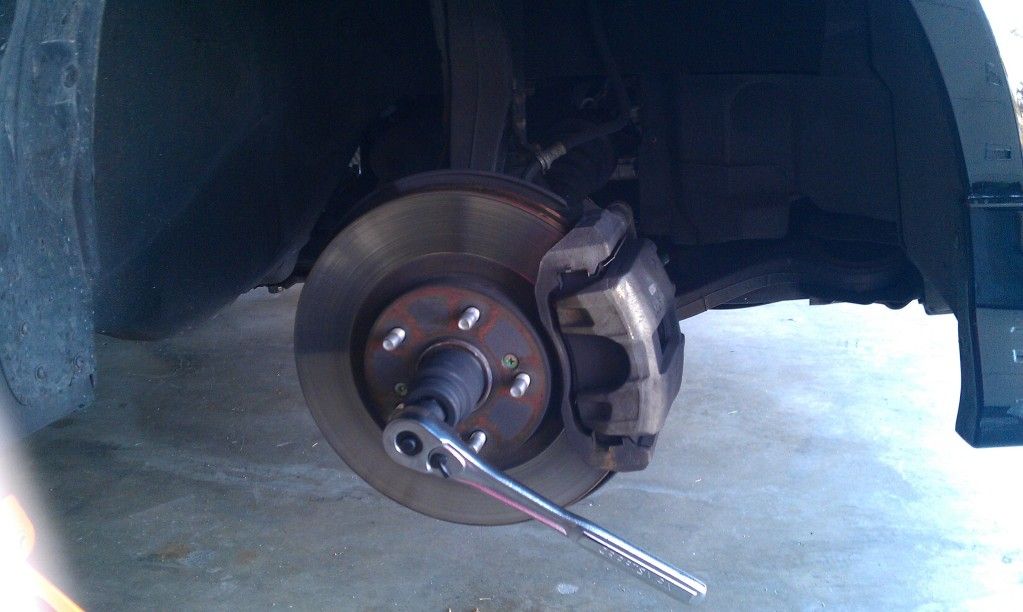 Step 5 Remove cotter pin under lower ball joint with a pair of pliers and remove castle nut with 17mm socket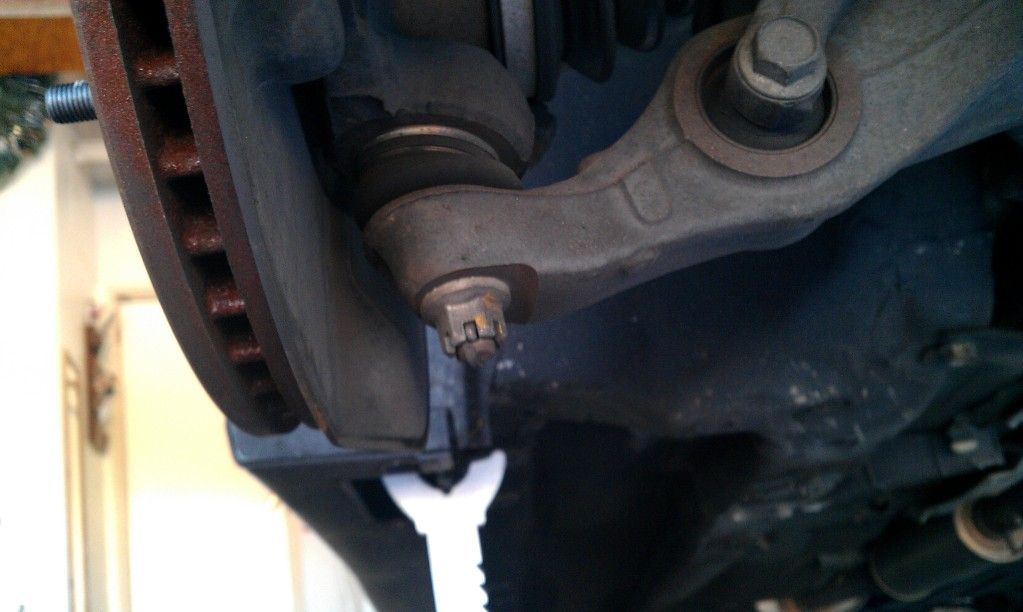 Step 6 Challenging part for me was releasing the lower ball joint from the assembly because its tapered into the arm. My method was taking my hammer and beating the side of it to break it loose. You can use a pickle fork or rent the tool to remove it also.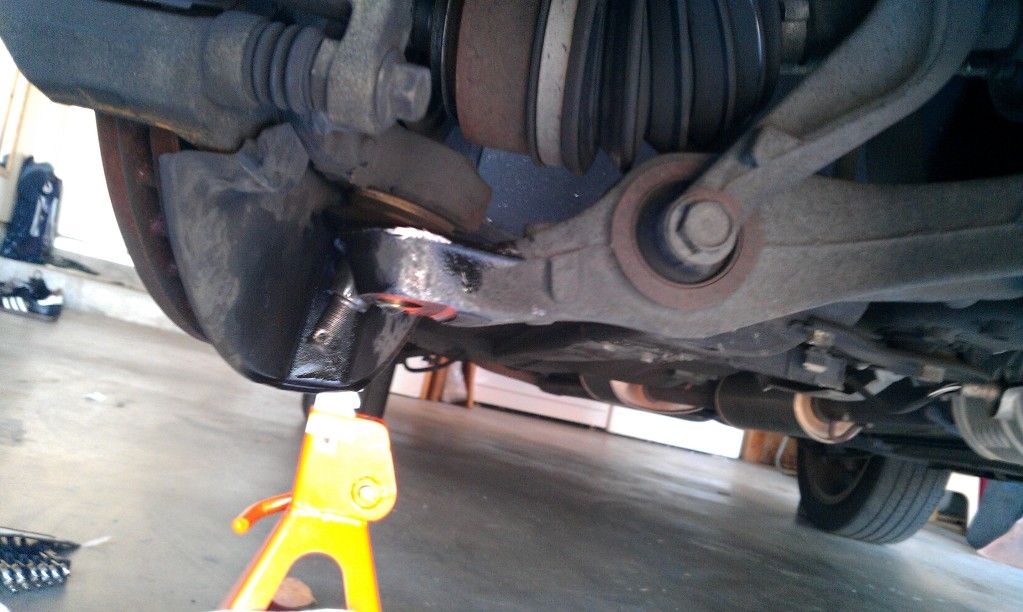 Step 7 Remove the wishbone or fork with you're 17mm box end wrench and 17mm ratchet. This will give you space to take it out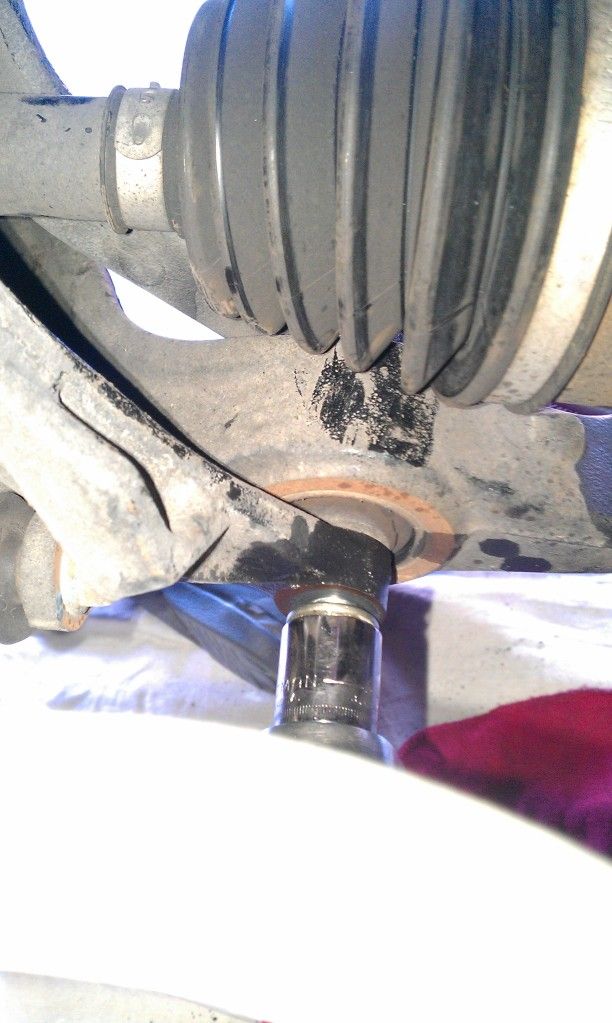 Step 8 Carefully tap on the end of the axle to remove it from the hub.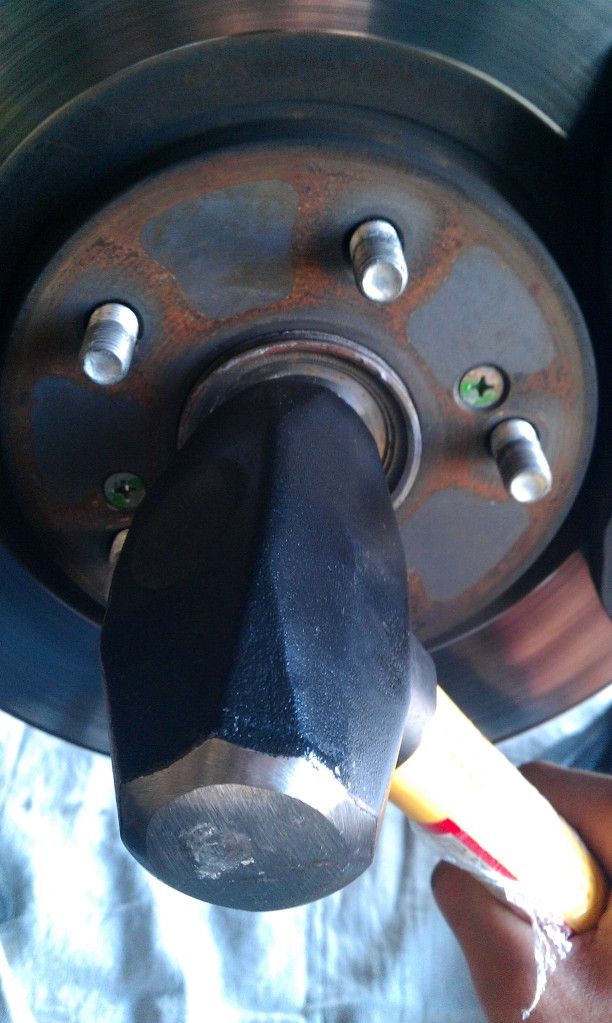 Step 9 I used a bar and used parts of the car for leverage to pop out the axle. You might want to remove the splash guard to gain access. I just took one 10mm nut off and held the splash guard back. It took a few of tries to remove the axle. You need a little bit off force to remove it.Try twisting it too, and then try to pry it off.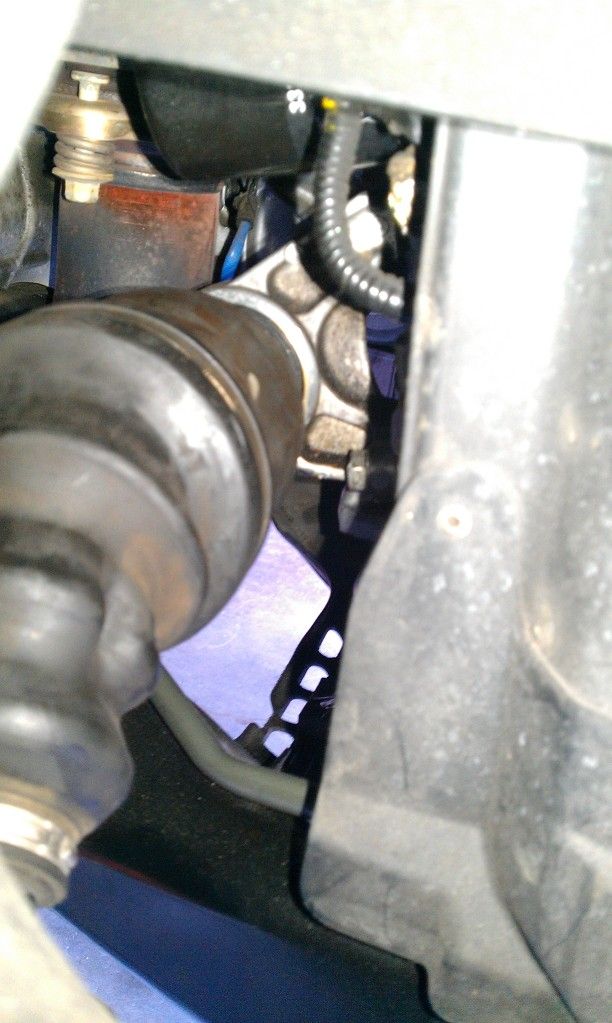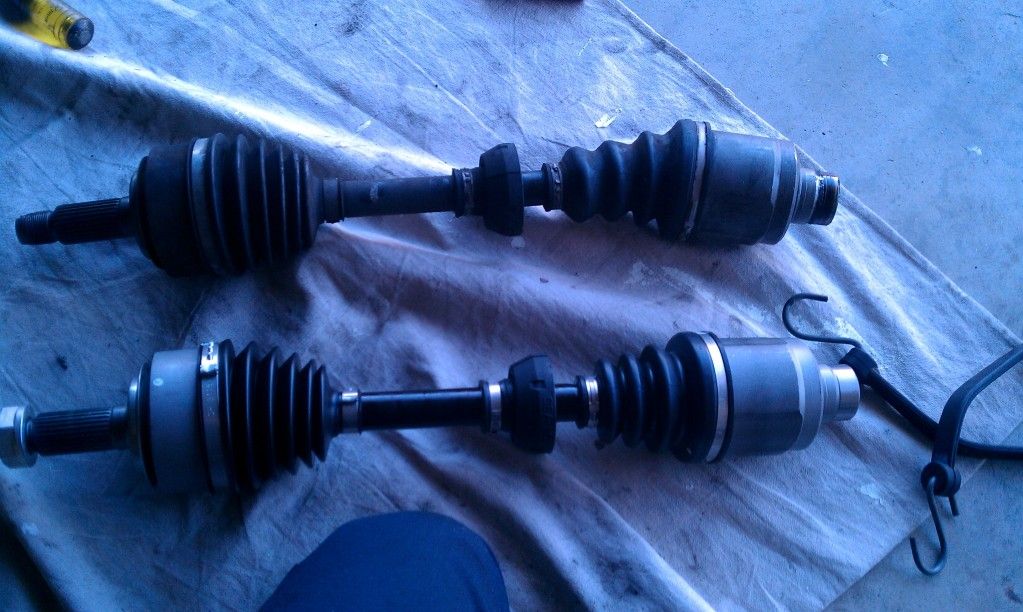 Step 10 Now install the inner boot into the extended shaft first. You'll know if you did it right when axle is seated flush with it. You got to give it a good shove but make sure splines are aligned. Don't force it though. Also, my axle came with grease inside. if yours doesn't use a small amount.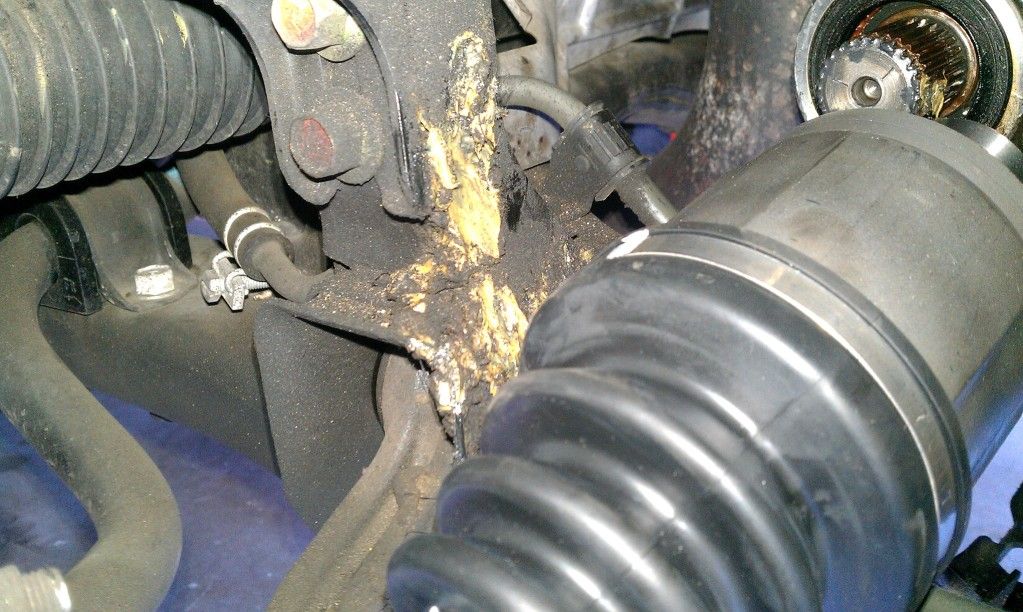 You can see the grease from the old cv boot splattered inside. should of done this sooner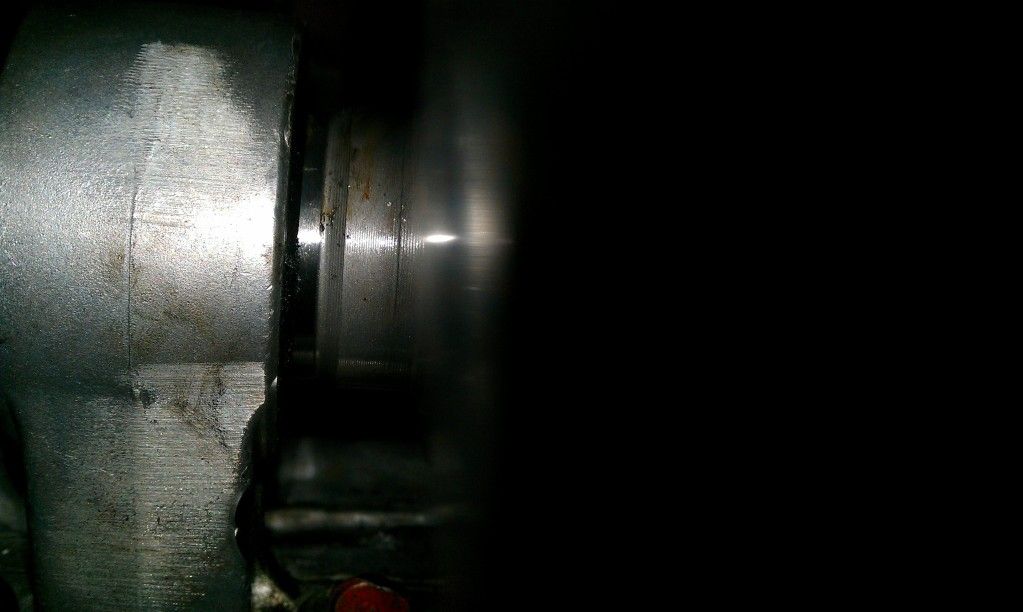 This is the bottom view of what it should look like when seated correctly
After i inserted the other end into the hub I first the aligned the lower ball joint and inserted it back into place. Then thread the 36mm nut a couple threads in just to hold in place.
After that the process of removing is in reverse!
1.Align fork with lower arm and insert bolt and torque back into place.(however they say to tighten this part when the car is on the ground or it will stress the bushing)
2.Place nut back onto lower ball joint and torque to spec
3.Dont forget cotter pin!
4.Place wheel back on and lug nuts
5.place car down and torque lug nuts in star pattern
6.torque axle nut( i didn't torque however I did put an extremely good amount of force with the breaker bar)
7.take pin punch or chisel and hammer nut into place.
Good luck
here are the following torque specs:
Castle nut : 32lb ft
Fork nut and bolt : 47lb ft
Lug nuts: 80lb ft
Axle nut : 181lb ft (I didnt torque this part but i did put an extemely good amount of force into it)