Hey guys!!!
So I just got my coils on a few hours ago at Speedstar. Thank you Albert and his team for working the whole day on it. Definitely appreciate it with all the bolts / top hats seized. I haven't had enough time to take pictures yet but I'll have some up soon.
My ideal height is about 1 to 1.5 finger gap (yes i know i know slam it but you don't want to know how steep the parking lot at my workplace is)... So I asked them to set it at 2 finger gaps during install. After about 5 hours, they're now just a little more than 1 finger gap.
Anyways, when I was looking for these coils, it seemed like not a lot of people had these on so not much feedback was available. I've only heard a few people with them but I wasn't able to find a "solid" review on these so I decided to take the chance and do one on these coils.
Just FYI, this is my first time driving a lowered car so my opinion will definitely not sound like an "experienced" driver whatsoever. Go easy on me.
My point of view is strictly in comparison to what the 2005 OEM suspensions felt like. No Swar bars, no nothing. 18 inch rims. OEM Top hats reused.
Comfort
First impression is that the coils feel VERY COMFORTABLEEEEE... they're just a little stiffer than stock. The best way to describe it is that it feels like a German Engineered car. If any of you have been in an Audi A3, S4 etc before... that's exactly how it feels like. It's firm but it is very comfortable. At low speeds around 40 km/h the car feels no different than stock. At around 60 - 70 km/h, that's when you'll feel the little bumps here and there on the roads. On a scale of 1 - 10 in terms of how much stiffer compared to stock?? I'd give it a 2. I'm taking the gf out tomorrow so I'll let you all know what she says about the ride. I'm guessing she's just going to say "are you sure you changed them?" Yes did I already tell you guys that these are very comfortable? :laugh:
Performance
In terms of body roll, it was definitely reduced by a lot... I felt the car was much much more stable at turns... I am a lot more confident making a right turn at higher speeds now. When it was stock, I was scared to even bring it anything near 30km/h. Two days before I installed the coils, I made some quick right turns just so I can prep myself to feel the difference. Let me tell you... running stock suspensions even at slower speeds, I felt so scared that the tail would lose it. With the coils on, it was nothing like that. Very smooth and solid turns, the tail just followed through. Braking was very good, little to no nose dive. You have to actually focus on it to see it. Enough said there.
The response in turns was very sharp, the coils definitely eliminated understeer a lot. I haven't really done any highway or "spirited" drives yet since it was raining, I'll update this later once the coils have settled.
All in all, having these for just 5 hours... I'm rating these A+ for daily driving. Heck, they even feel better than stock.
If any of you are looking for street coils, daily driving... I can tell you, you will not be disappointed with these. They cost just a tad less than Tein SS. They are only height adjustable, but with the comfort level right now... I'll never fiddle with the damper settings anyways. If you're looking to track though, these are probably not something you want.
Let me know if any of you guys have questions, I'll try and answer them at the best of my ability. Don't forget... I'm a newbie with lowered cars and I'm actually a very slow driver lol... no sarcasm.
Update!!
So I had a quick minute to snap a few shots of my car before I headed out to work this morning. Car is super dirty but here's an idea of what my car looks like right now after 3 days. The front is now 1.5 fingers and the rear is less than a finger. I'm going to bring it back for height adjustment soon.
I've been driving a lot of highway the past few days. The suspension has become a little stiffer but still VERY comfortable and close to stock. The handling has got better, much more predictable than stock. All in all, I'm very satisfied. P.S. these are definitely gf approved... she says these are very comfortable.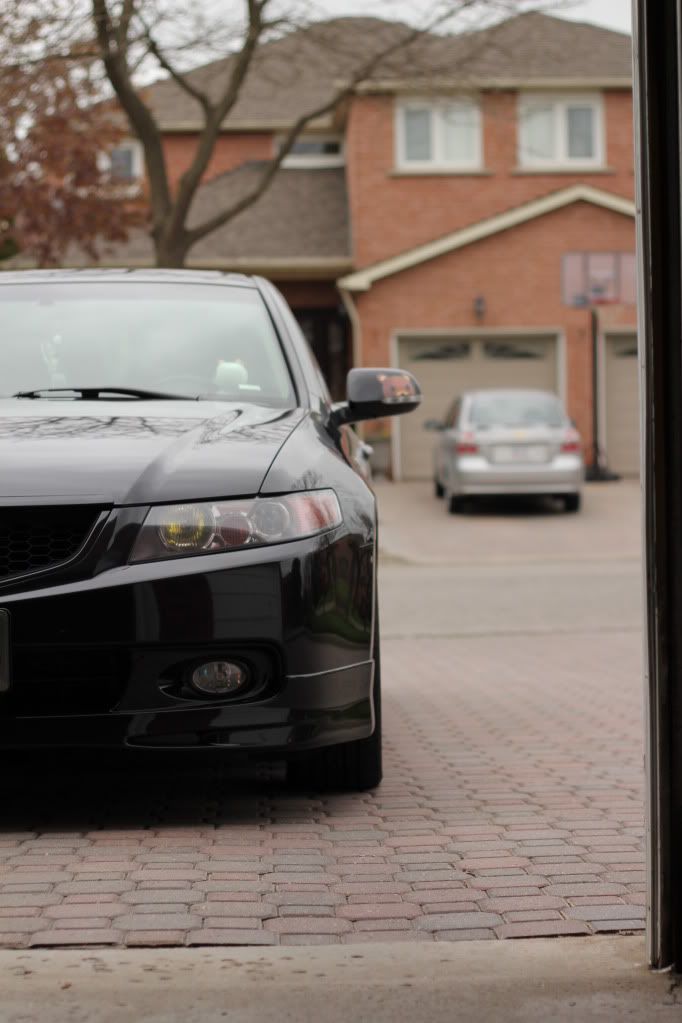 Thanks!