Discussion Starter
·
#1
·
- WELCOME TO THE WORLDS MOST BORING WRITE-UP -
So after I had painted my grill to match the car, I have been glaring at the door and handle chrome trims, trying to figure out what I wanted to ditch.
In the end, I decided (for now) to keep the window trim and see what I could do to get rid of the door handle trim. I have seen a fellow board user go through the process of taping it off and painting it... and though that is not out of the question, i decided to go the easy route first and see how it looked: cover them with the trimbrite vinyl blackout tape.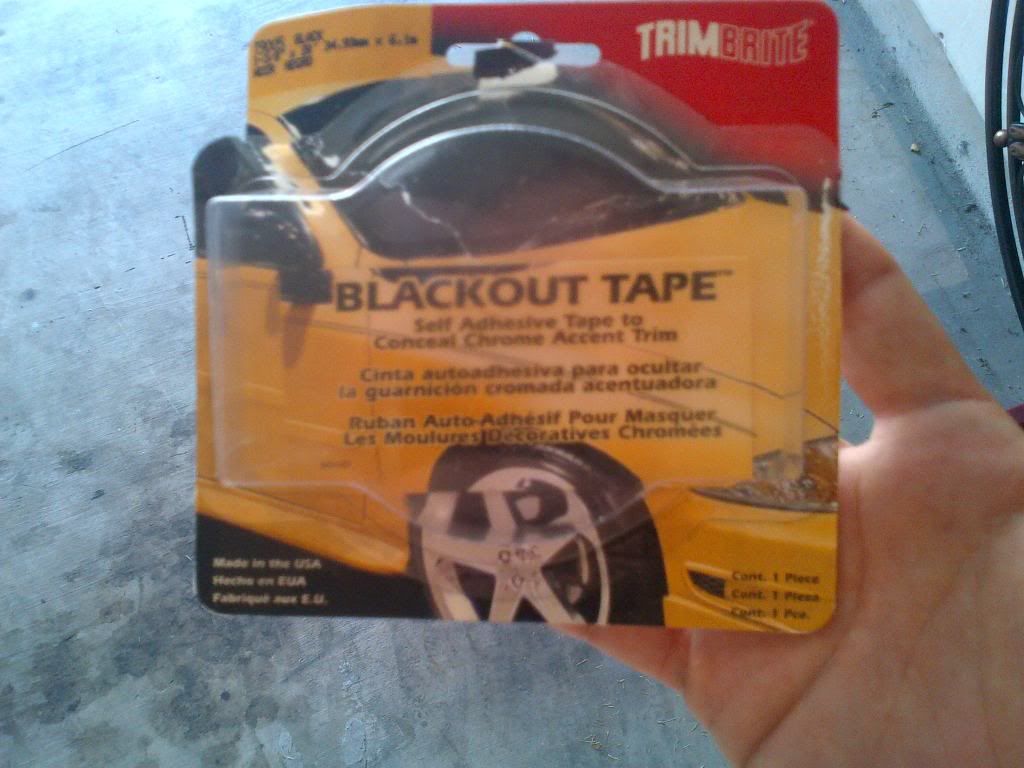 I think you can only try to pull this off with a black car. With any other color, it will stand out too much and make your car look like an older Accord or Civic DX, back when they didn't paint the mirrors and door handles and all that.
The jury is still out on if I will leave it this way. I'll look at it in different light and decide later on.
So, heres the technique I used, in case anyone else gives it a try.
1) First, I cleaned the handles with automotive glass cleaner. I wanted to make sure I used something that wouldn't leave a residue
2) Next, cut strips of the trimbrite to the size of the handles, to make it a little easier to handle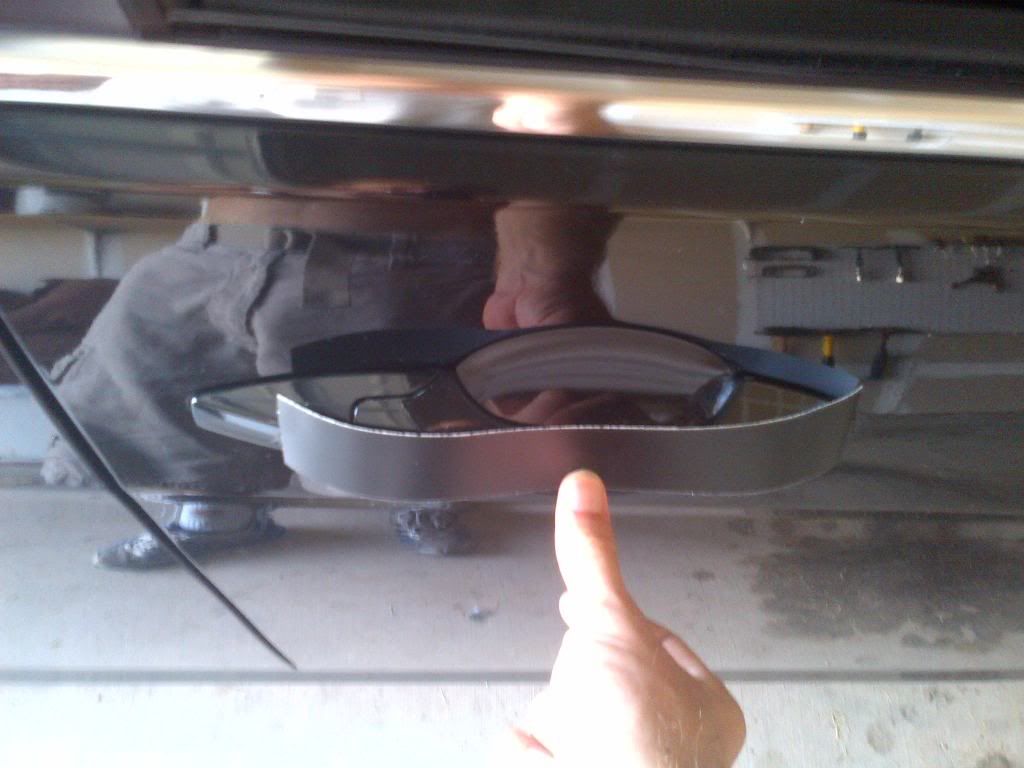 3)Next, carefully place the trimbrite CENTERED on the door handle. You will be tempted to line up either the top or the bottom of the tape with the edge of the chrome, to minimize the cutting required, but this does not work. The chrome has a slight curve to it, and if you try to follow it with the edge of the tape, you will end up with bubbles. A little bit of a stretching force helps as you lay it on. Use your thumb to rub it on firmly, rubbing in an up and down direction.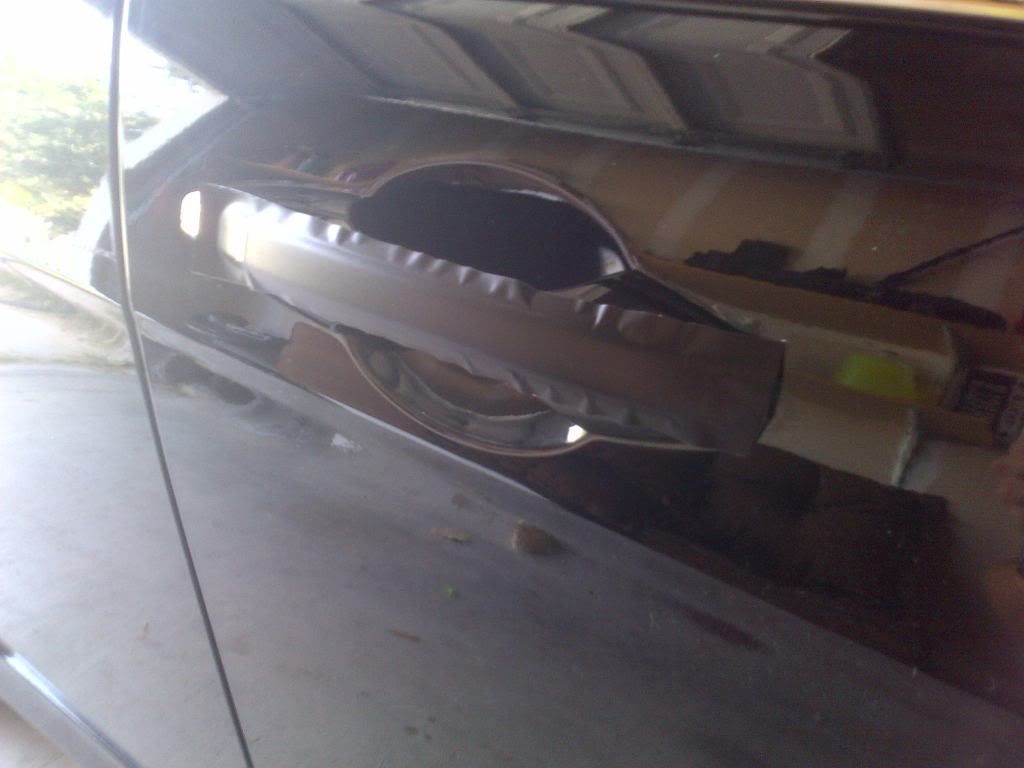 4) Use either a plastic razor or your thumbnail, depending on your hygine habits, to press the tape into the gap between the chrome and the plastic of the door handle.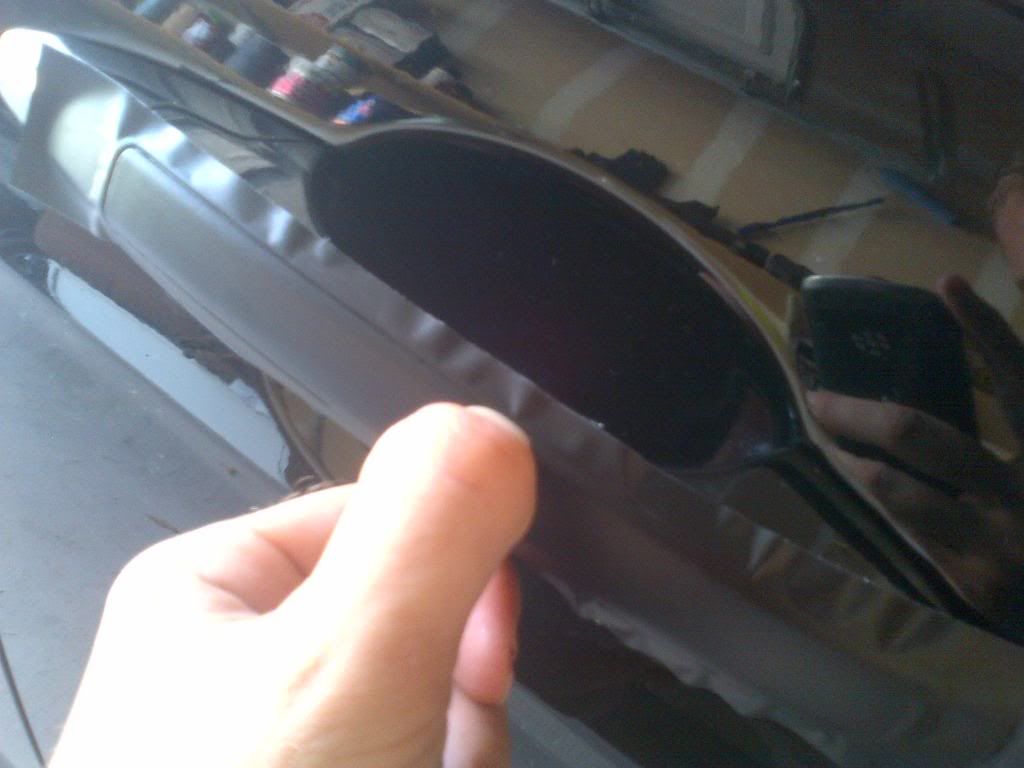 5) You'll end up with this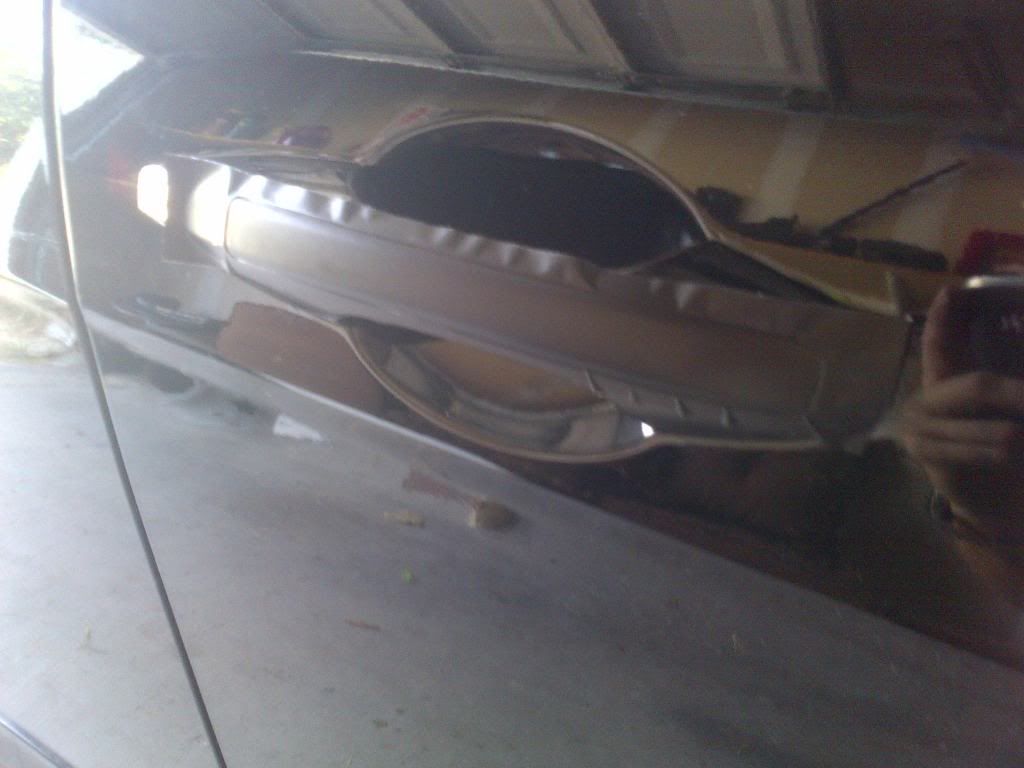 6) Next, carefully take a razor to the edge. Take your time, if you slip to the inside, you'll need to start over. If you slip to the outside, you'll cut your car in half and have to get a new car.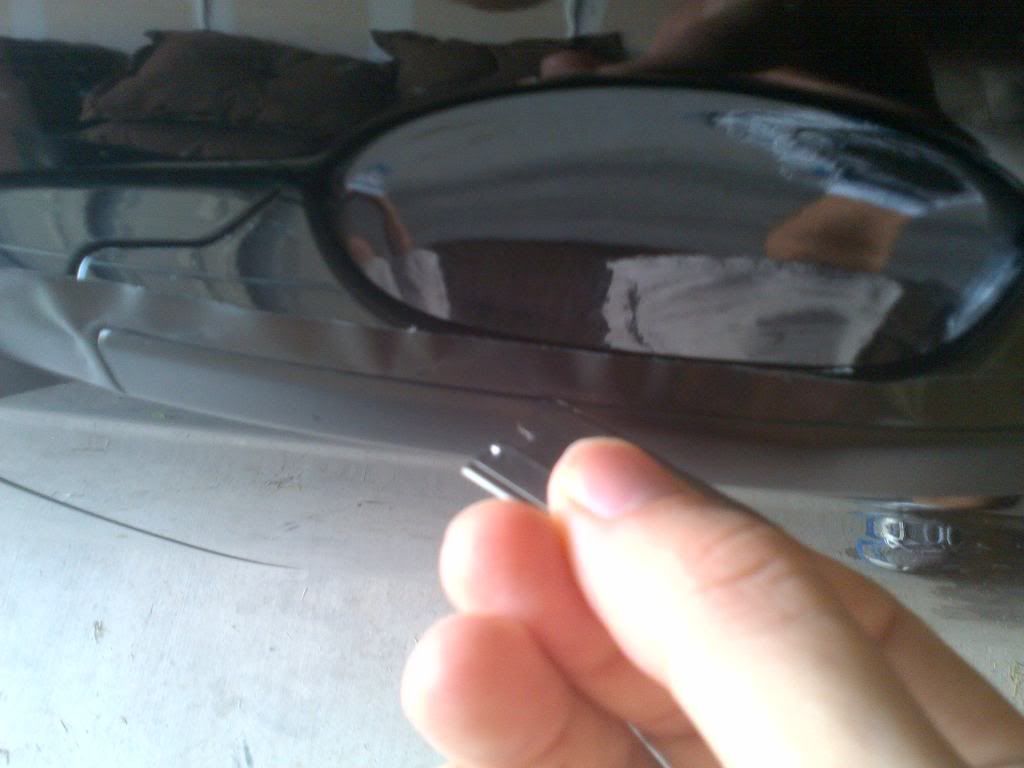 7) After you've made it around, peel off the excess
8) Clean up the sticky residue and your finger prints with some quick detailer, and you're done!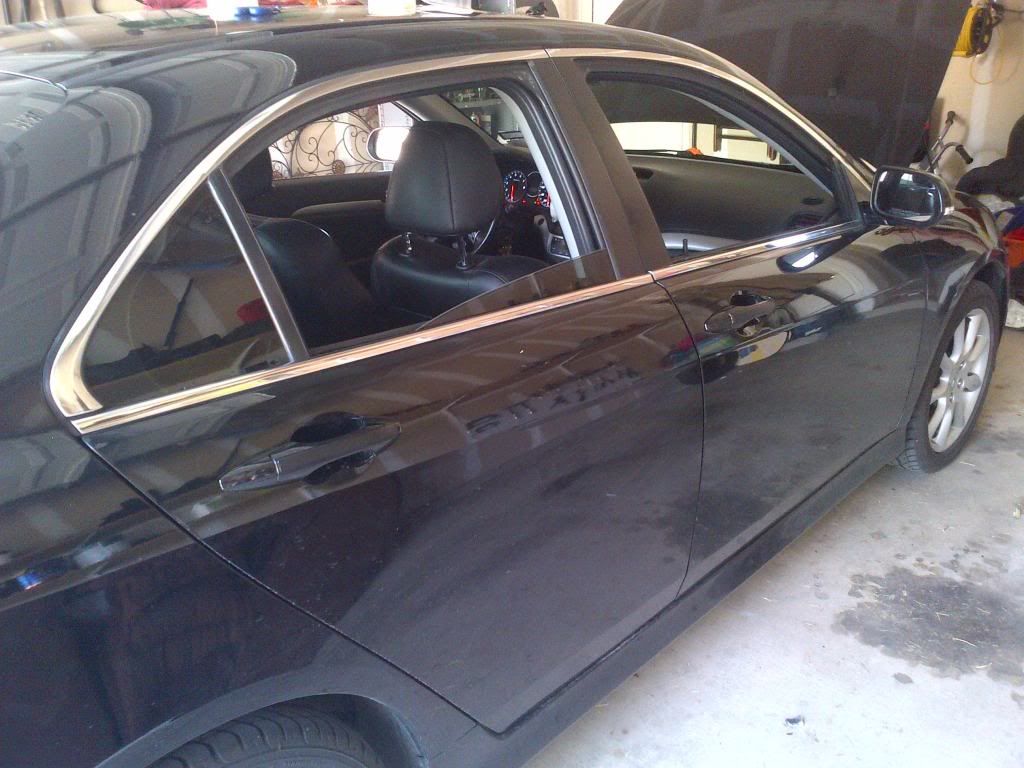 9) Stand back, and frown slightly as you attempt to descern if you like what you just did
10) Walk back up to the car, look closely, and frown more as you wonder about the meaning of life, and how it has changed with this earth-shattering mod.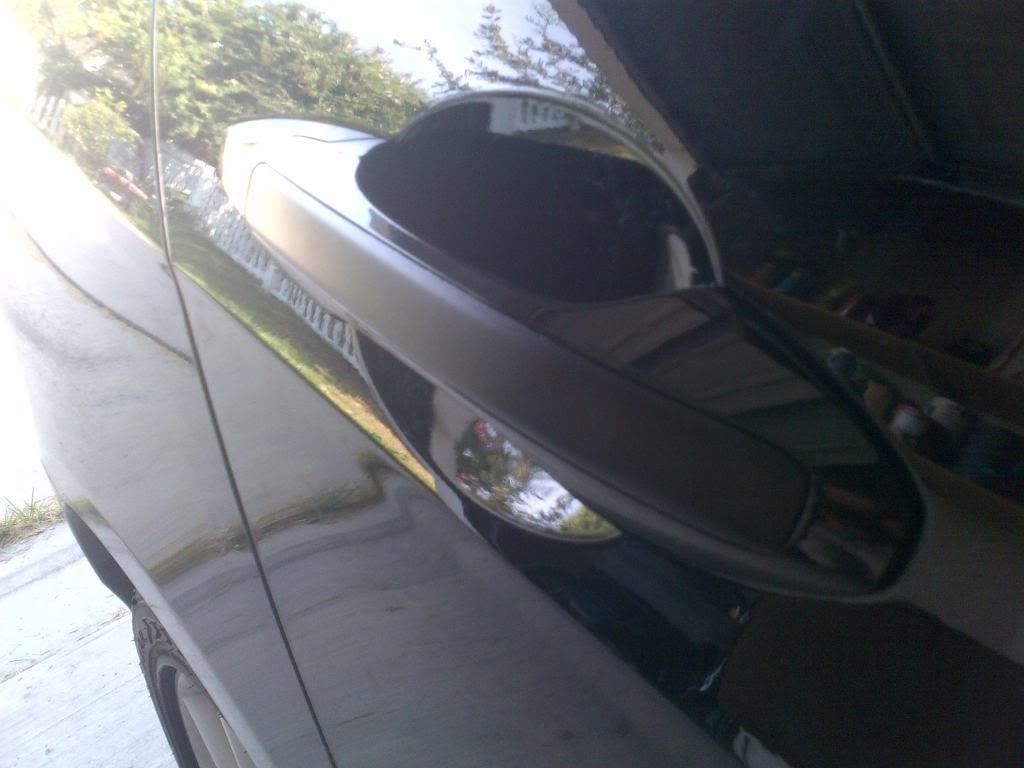 Anyway, so I think I like it. It looks more like "protective" strips rather then plasticy strips. At a glance it doesn't look like anything. I haven't figured out if there is anything to be done about the chrome ring around the keyhole, but I'll save that for another day.
In other news, I complied with the "squeaky seat" TSB with some leftover speaker box carpet, and it worked wonders.
:thread: