Discussion Starter
·
#1
·
Just wanted to share what happened with a navigation DVD disc reading error I've encountered.
I've had a DVD disc reading error from time to time, always coincidentally when I'm down to about 10% oil life on the MID of my 2006 TSX. I've only received this error upon driving for some time and never at start up. Lucky for me, this never happened when I was going somewhere unfamiliar.
This first occurred about 4 months after buying my TSX in July 2006. I turned the accessory mode on and off, ejected the DVD, etc. It seemed to fix itself after turning the ignition off and on most of the time. The dealer has never been able to replicate the error in the 3 times I'd mentioned the issue.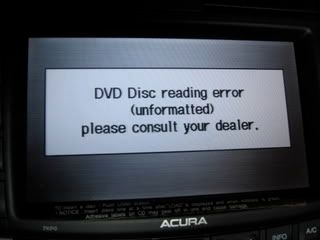 Well, I took my car in for an oil change yesterday and just as I pulled in, the error popped up and I had a service advisor confirm the message. He thought that it could a scratch on my DVD but he'd have my unit inspected.
Turns out my DVD was fine and unscratched. I'd never taken the DVD out of the drive except for the first occurrence of this error. The technician verified that my disk looked fine and diagnosed my navi system. They ended up replacing the "navigation system control unit" according to my invoice. The service advisor told me that both the drive unit and navi cpu (?) was replaced under warranty. It's $$$ out of warranty.
According to my advisor, there was a service advisory or bulletin out for this error. I've been quickly skimming through the Acura TSBs but I don't really see anything except for B06-001 (that appears to be more like details for dealers on how to order replacement parts). I'm still not sure where he came up with this or if there was anything official. **EDIT: There was a notation on my invoice "S/B 06-039."
Just an FYI, both TSXs and TLs on
another
forum have had these issues. Some have been finding success by:
1) Cleaning the DVD itself
2) Using one (or two) types of DVD drive lens cleaners (one with a single brush, one with multiple, evenly spaced brushes)
3) Sending the drive unit back to Alpine for repair (<$200).