·
TSX of the Month Winner
Discussion Starter
•
#1
•
I've had the Hondata TSX K-Pro for about 2 months now. I just got Dyno-tuned at Church Automotive in Wilmington, CA. Here is an in depth review of a fully tuned K-Pro setup and my experiences with it. This is a very long read, so those who just want to see the dyno graph and videos can just skip to the end.
My Setup:
04 TSX 5AT Auto Tranny - 108K Miles
Hondata TSX K-Pro - Dual ECU Setup
Comptech / CT-E Supercharger with 8 psi / 3.15" Pulley
Comptech / CT-E Icebox with K&N Filter
Comptech / CT-E 520 CC Fuel Injectors
Comptech / CT-E Auto Tensioner (Prevents belt slip)
DC Sports Header with 2" Vibrant TurboFlex Pipe
2.25" FastLine Performance Hi Flow CAT from HeelToe Auto
Stock OEM Exhaust
Denso IK20 Spark Plugs (Stock)
04 Throttle body with Throttle Body Coolant Bypass
Stock VTC (25 degree max cam angle)
Power :thumbsup:
265 Horsepower / 199 Torque
I ended up putting down 265 hp and 199 tq at 8 psi of boost. I'm happy with these numbers since I am on the 04 Stock Exhaust, DC Header with only a 2" Flex pipe, and Stock VTC (25 degree max cam angle). The tuner told me I could have gained another 20-30 whp if I had an aftermarket exhaust. In comparision to a stock 04 TSX on the same dyno, I put down 96.5 more HP and 57.9 more tq. When I was at 5 psi on the Comptech ACM I was at about 222 hp and 165 torque. So I gained about 43 hp and 34 ft tq by going from 5 psi to 8 psi and adding the FLP CAT. These numbers are hard to compare though since they were done on Comptech's dyno. They should be close though since my car had similar baseline numbers as the Stock TSX in the dyno charts below.
The peak numbers don't tell the whole story though, I've gain a lot of usable power throughout the entire RPM range. By 4000 rpms, I'm already at 190 torque and have 70 ft/lbs more tq at 6500 RPMs than a stock 04 TSX. Once the torque kicks in, it stays above 190 almost all the way to redline. In addition, my torque and horsepower curves are really smooth. This is ideal. A well tuned engine should not have power jumps and dips. You should have smooth / linear power throughout the entire rev range. This power can really be felt around town and in the low RPM ranges. I've noticed that I hit higher boost much earlier now, so I have good power even when not going WOT (wide open throttle). On the street, the car is a beast! It just keeps pulling in every gear and I'm noticing my passengers have been grabbing things to hold on to
. On the freeway when I downshift to 3rd and punch it, I can easily jump from 70 mph to 100 mph in a flash. Even at high speeds, I am able to pass some cars like they are standing still!
Driveability
With K-Pro, the throttle response and part throttle driveability of the car has drastically improved. Even though my car is boosted, it drives very smoothly and there are no jumps in power when boost or vtec kicks in. It drives very similar to a stock car. This is probably one of the biggest benefits of the K-Pro. You can tune the transitions in and out of boost/vtec to be very smooth since you have full control of the fuel/timing in every RPM and engine load range. Before when I had the Comptech ACM Piggyback system, there would be a big jump in power when boost and/or Vtec kicked in. The peak power would be there, but it was more of an ON/OFF switch. You were either pushing the engine hard, or you were cruising. There was not very much in between, it was more all or nothing. Although, the transitions weren't terrible, I've come to really appreciate how well the car now performs in part throttle. I've noticed that I don't have to get on it as much. I have good acceleration throughout the RPM range and can even build low boost (1-2 psi) at part throttle. I'm still getting used to the power and flooring it is actually a little too much at times. In fact, sometimes my girlfriend will get mad at me when I floor it without telling her in advance. She looked over at me the other day and said "I wish you would have told me you were gonna do that."
I've heard that after awhile you get use to the power and eventually want more, so we'll see how I feel in a couple of months though.
Sound
My car is a sleeper. When I am at low RPMs, then you can't even really tell that my car is modded. I can just cruise around town normally. Once I get on it though, you can really hear the SC whine. The car just sounds pissed off! I've noticed that the whine has gotten louder after I went to the smaller 3.15" pulley. Since I'm on the Stock OEM exhaust, my car has no drone at all in the low RPMs when I'm not in boost. I can just cruise around as if I was stock. It's actually a lot of fun because I often catch other cars unexpected. I think it's really cool how I was able to put down good power while still maintaining a lot of the quietness and luxury aspects of the TSX. Sure, I would have more power with an aftermarket exhaust or less restrictive header, but that was not what I am after. Maybe I'm just getting old :tomato:, but after driving a Civic with Greddy exhaust for 7 years, I am perfectly happy with the power I am making with my droneless Stock exhaust.
MPG
I've noticed that my gas mileage has actually improved since installing the K-Pro. It has probably went up about 2-3 miles per gallon. I think this is a result of the fuel tables being perfectly tuned/optimized for my exact setup. With the Comptech ACM, a lot of fuel would get added once the car saw any amount of boost. After awhile, I learned how to help control that with the ACM setup, but it was touchy. I noticed that at light throttle, on the freeway especially if I jumped into even 0.1 psi of boost, the ECU would jump into Open Loop and the ACM would add a lot of fuel and making my Air/Fuel ratio very Rich. This lead to wasted gas and the engine not burning as cleanly as it should be. Now when I encounter the exact same scenario with K-pro, my Air/Fuel ratio is a perfect 14.7! This is a result of the fuel table in those exact RPM and engine load ranges being tuned to 14.7 in K-Pro.
FLP CAT
Before my dyno and tuning session, I wanted to get rid of the Stock CAT. Everyone told me that was going to be my biggest restriction in the exhaust system. HeelToe Auto was having a sale on their FLP CAT so I ended up picking one up. I'd have to guess that I gained about 12-15 whp from the CAT alone. I am really happy with the quality, sound, and fitment of the FLP CAT. Since I am planning to stay with the Stock exhaust, I went with the 2.25" version so that piping was consistent throughout the entire system.
I posted a full review of the cat. Click below.
http://tsxclub.com/forums/1st-gen-engine/37065-review-fast-line-performance-cat-heeltoe-auto.html
K-Pro / K-Manager
K-Pro is a different type of mod then all of the bolt ons that we put on our car. There is a lot of learn about your car and engine and since K-Pro has so many adjustable parameters you end up getting exposed to a lot more than normal. You literally have a ton of control at your hands. That is both a good and bad thing. If you know what you're doing, it's good. If you don't, then it's bad. I'm not sure where I fall, but I think I am somewhere in between. I have spent a lot of hours and time, reading forums, analyzing datalogs, and just generally trying to learn. At the end of the day though, I realized that it's really all about getting the car to a tuner that has a dyno. When I first got K-Pro, I tried to street tune. Although this went pretty well, I had some rough times and at the end of the day I was tired of speeding down streets and breaking speed limits just to try to get everything running properly. I probably did over 100 runs the first week. It was more than worth it to me to get my car properly tuned. It is nice to have that extra piece of mind. I could probably talk about the features of K-Pro for days, but I'll let you visit the Hondata website for more information. I'd say the coolest feature of the K-Pro is the ability to Datalog exactly what your car is doing and then study it at a later time. This can lead to countless hours of fun and puzzled looks from your gf and co-workers asking exactly what you are looking at
. So with all that being said, there is a learning curve, but if you choose, you can not learn any of it, go straight to a good tuner, and let him worry about it. If you're NA, I think you could maybe even get away with getting K-Pro and just loading one of the pre-made basemaps. So it is really all up to you and what you want to get out of it.
Church Automotive
I had a good experience at Church Auto. I met Shawn Church and my car was tuned by Daniel (Aka palmerblock on k20a org and club rsx). Special thanks to him! The staff was friendly and I could tell that they had a lot of experience with the K-Pro and K-Series engine. They had a lot of nice cars there including a Turbo RSX. They were a knowledgeable bunch of guys and answered any questions I had. The tuning session only took about 2 hours. It would have taken longer if I had a VTC that could go greater than a 25 degree cam angle. I may look into changing my VTC later. It would help increase my peak numbers, but also allow me to make more power at lower boost levels. This leads to lower temps, less wear, and is safer for the engine.
Problems :thumbsdow
Here is the hardest part of the review. I've actually been having a lot of idle and stalling issues with the TSX Dual K-pro Setup. I was hoping that Hondata would have all of these issues fixed by the time I did my review, but this is not the case. They are still working on a few things. The biggest problem that I am having is that my car will sometimes stall/shutdown when I am slowing down to a stop sign or stoplight. This doesn't happen all of the time, but enough to where it is very annoying. In order to combat this, I try to downshift manually when I am coming to a stop. I am not sure what is causing this, but it almost seems as if the two ECUs are fighting for control. The Stock ECU controls the idle speeds, so unfortunately, the idle speed and IACV slider in the K-Pro has no effect. In the past, when RSX owners have ran into the same problems, they have simply adjusted those settings and it would usually fix the problem. Hondata is looking into this though, and I hope to hear from Doug with a fix or solution soon. The strange thing is that not all TSX K-Pro owners are experiencing these stalling issues. Doug aka Hondata is running the exact same injectors and map as me on his car, yet he is not having any stalling issues. I am still trying to debug this problem and have tried everything that I possibly can to fix it. I've been talking with other TSX K-Pro owners to see if we can narrow down what is happenning.
Another problem that is occuring is that my idle is very low. My car idles about 550-600 rpms. Sometimes when I turn the AC on then the idle will drop even lower and the car will vibrate a little bit. The idle is also erratic at times and jumps around between 500-800 rpms. The erractic idle doesn't happen all the time, but it does seem to be a common thing that every TSX K-Pro owner is experiencing. Apparently, Hondata is looking at ways to control the idle speed in the Stock ECU. If they are able to get this figured out, it should fix both problems that I have mentioned. I have my fingers crossed. I have faith in Hondata though. They are a good company and I think that they will find a way to fix these problems.
Conclusion
So, there you go guys. A full review of my experiences with K-Pro so far! I love the K-Pro, but there are some things that Hondata needs to fix before I am completely in love with it. I know my review was long, but I figured that it was better to put too much information out there rather than not enough. I figured the guys who don't like to read would just jump straight to the Dyno pics and video anyway. Alright, time for a beer. Peace!
My TSX vs. a Stock 04 TSX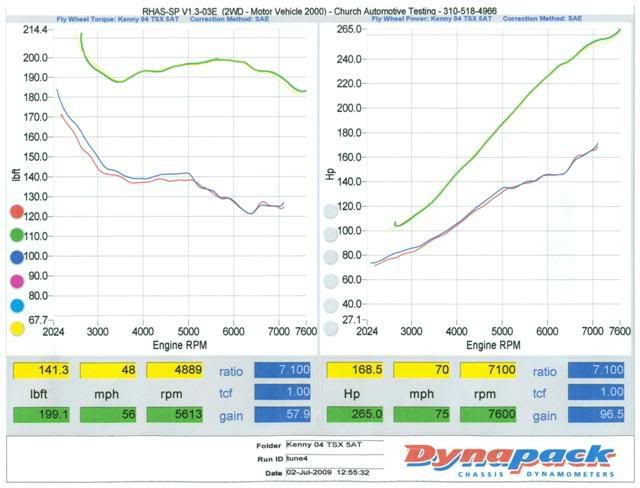 265 horsepower / 199 torque - Peak Numbers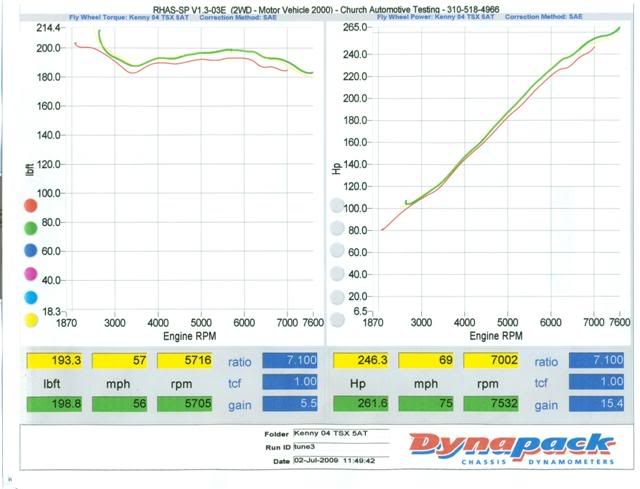 Air/Fuel Ratio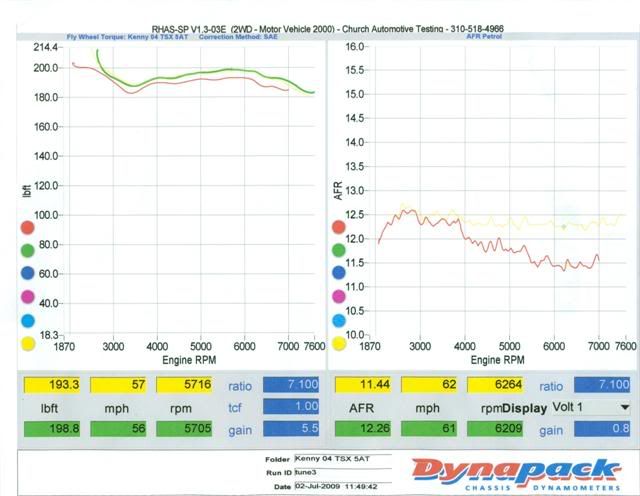 Boost Level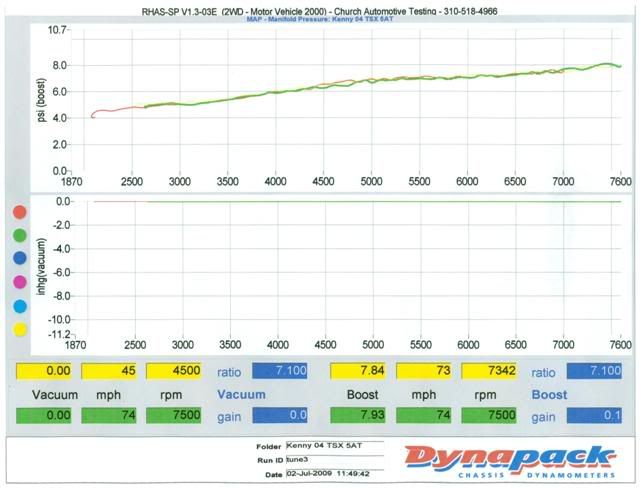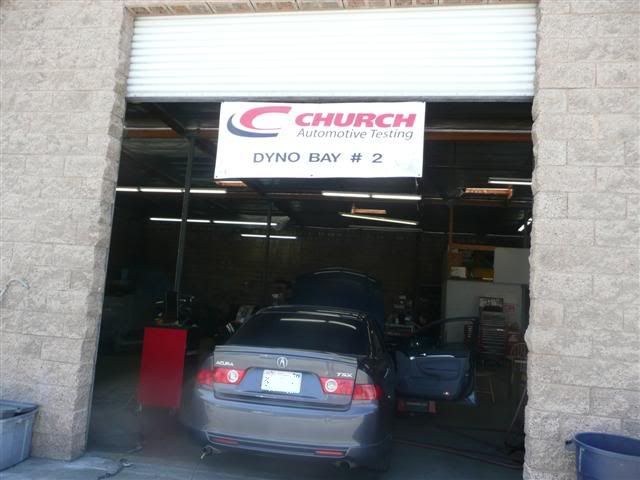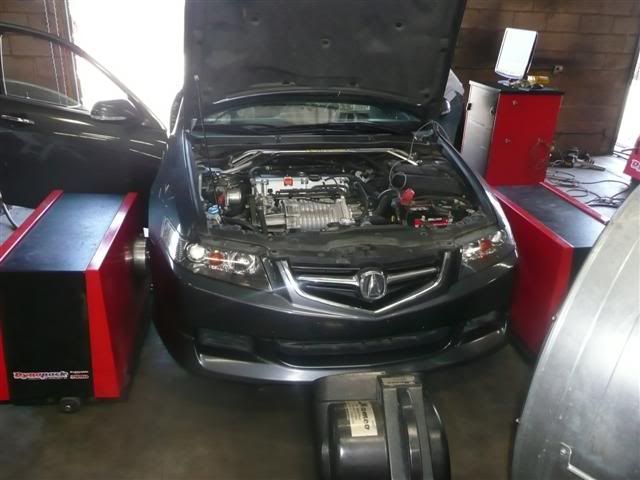 <object width="425" height="344"><param name="movie" value="http://www.youtube.com/v/KZ6HWYyywag&hl=en&fs=1&"></param><param name="allowFullScreen" value="true"></param><param name="allowscriptaccess" value="always"></param><embed src="http://www.youtube.com/v/KZ6HWYyywag&hl=en&fs=1&" type="application/x-shockwave-flash" allowscriptaccess="always" allowfullscreen="true" width="425" height="344"></embed></object>
<object width="425" height="344"><param name="movie" value="http://www.youtube.com/v/H1bos7mq4bI&hl=en&fs=1&"></param><param name="allowFullScreen" value="true"></param><param name="allowscriptaccess" value="always"></param><embed src="http://www.youtube.com/v/H1bos7mq4bI&hl=en&fs=1&" type="application/x-shockwave-flash" allowscriptaccess="always" allowfullscreen="true" width="425" height="344"></embed></object>